Avoid storing email messages on the server.
< Back (Time: 2-10 Minutes)
To check to see if you are leaving all email on the server
Note: It is very important not to leave copies of all email on the server. This will cause your allocated server space to become full, and may result in pop errors.

Go under TOOLS, EMAIL ACCOUNTS, VIEW/CHANGE EXISTING EMAIL ACCOUNTS.

Select your email account and select CHANGE.

Select the MORE SETTING BUTTON

Under the ADVANCED tab at the top, be sure that the checkbox next to the following statement is UNCHECKED: "Leave a Copy of Messages On the Server"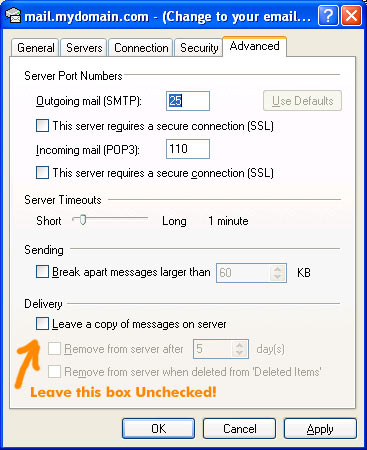 Below are very useful links on how to use Microsoft Outlook. Please refer to Software documentation for making the most of the software:
Outlook Express Support Center - Visit the Outlook Express Support Center for links to common questions and answers, instructions, the latest downloads, and more.
Contact Microsoft - Phone Numbers, Support Options and Pricing · Submit a Request for Online Phone Numbers, Support Options and Pricing, Online Help, and more.