Setup Microsoft Outlook 2003 to send and receive email with your pop account.
< Back (Time: 2-10 Minutes)
Microsoft Outlook is recommended over webmail or other email clients due to it's flexibility and features. Webmail is very convenient to use when traveling.
1) Open Outlook
2) Select the 'Tools' menu at the top, then 'Accounts...'. (The 'Internet Accounts' dialog box appears.)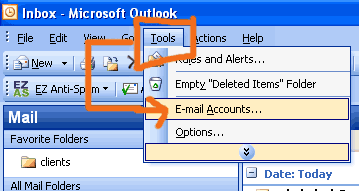 3) Click either ADD or VIEW CHANGE EXISTING then the NEXT button as below: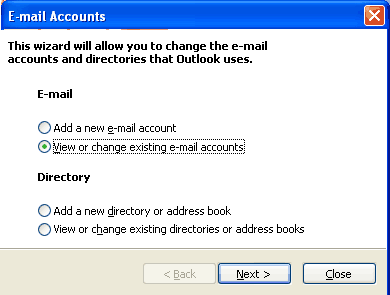 4) Click CHANGE or ADD as below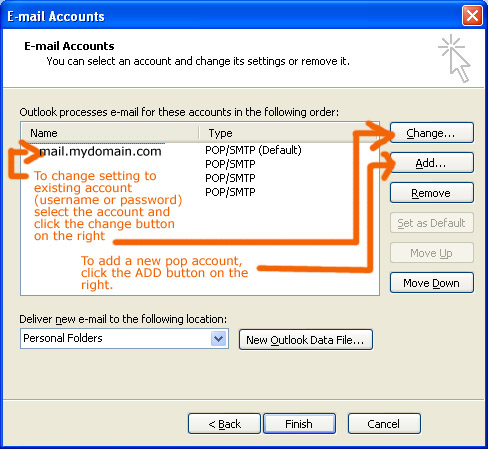 5) Use the following settings as below: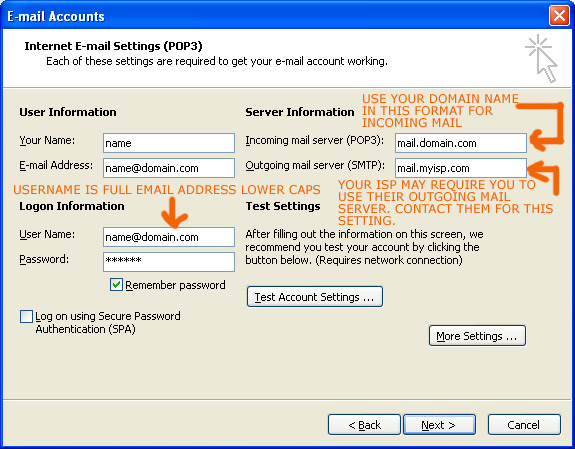 6) Click the MORE SETTINGS button from the screen above. The first TAB on the next window is called GENERAL. Fill in this information as appropriate. This is how your information is displayed for your email recipients.
The 2nd TAB is the OUTGOING server settings. If you use your website domain name for your outgoing server (instead of your ISP's outgoing mailserver), then enter the settings as below. If you use your ISP's outgoing mailserver, contact your ISP for information on these settings.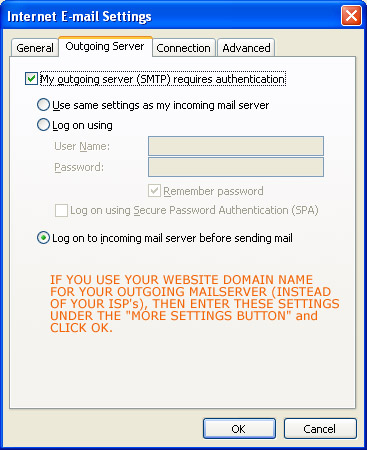 7) Click the ADVANCED tab (leave other tabs as default) Ensure that the checkbox that reads "Leave a copy of messages on server" is clear. Leaving email on the server may exceed your allocated storage space of your website account. Once your website account exceeds its capacity, email will be returned in error to the sender.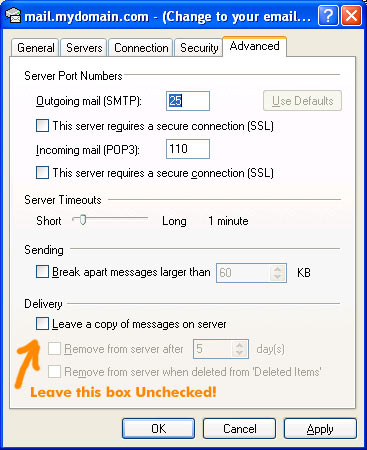 8) Click OKAY and you are ready to pop your email account!
Tip: In Microsoft Outlook (and Express) You can press the Send/Receive button to push outgoing mail out, and to pop mail off the server. Otherwise, you can set Microsoft Outlook to check for mail every few minutes or so. We strongly recommend sending an email to yourself. It's a good way to get familiar with what your correspondence will look like to the sender.

Below are very useful links on how to use Microsoft Outlook. Please refer to Software documentation for making the most of the software:
Outlook Support Center - Visit the OutlookSupport Center for links to common questions and answers, instructions, the latest downloads, and more.
Contact Microsoft - Phone Numbers, Support Options and Pricing · Submit a Request for Online Phone Numbers, Support Options and Pricing, Online Help, and more.